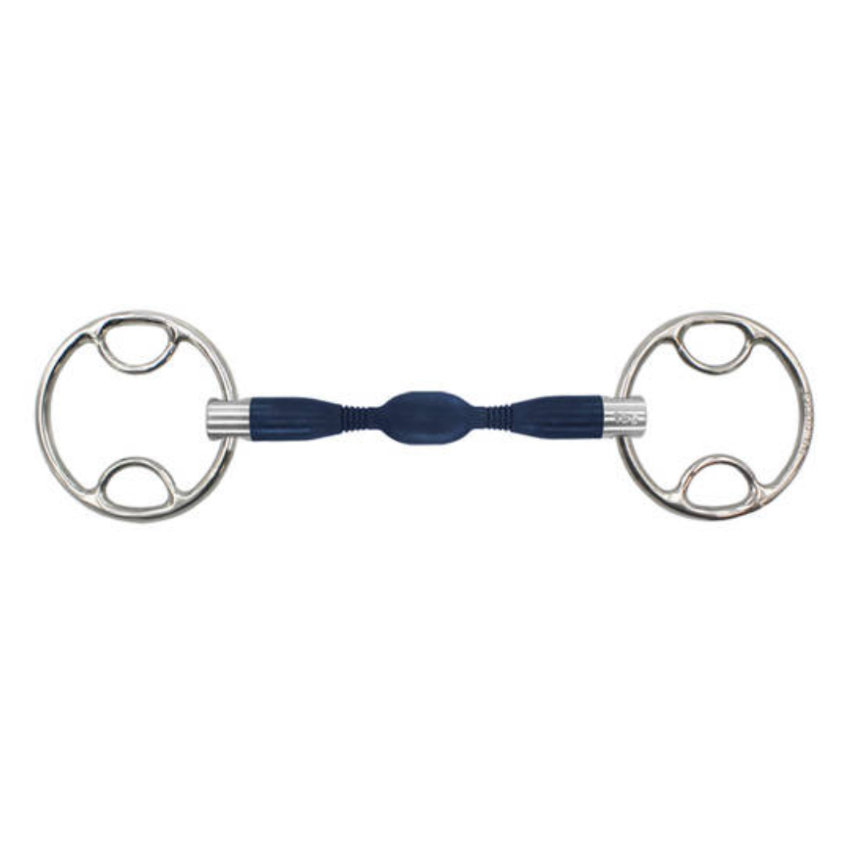 Bombers Bits Wilkie Moulded Preferred Contact
BWL00PC0014516
---
Key Features
The Wilkie utilizes pressure on the poll and raises the bit in the horse's mouth to achieve additional control without resorting to a stronger mouthpiece.
This is similar to the action of a ring bit but to a milder degree which is why it has found favor for use on ponies.
The cylindrical sides flex onto the bottom bars and jaw, with the flattened centre section bending over the tongue. The centre tongue pad is an elongated circle, flattened and angled at 45 degrees to sit flush against the tongue and palate. The articulated ribs on either side of the tongue pad allow the cylindrical sides some independence, and the tongue pad some stability. The internal flexible stainless-steel cable core has been injection moulded with a bespoke non-toxic, UV resistant, FDA approved flexible synthetic material. The Bombers moulded material has been uniquely developed, to ensure 3 key attributes; texture, durability and comfort.
Cheekpiece
The cheekpiece is available in 2 sizes, standard and a slightly smaller model for a pony. Bomber highly recommends using a bit strap on a loose ring, as it stabilizes and minimizes the mouthpiece sliding through the mouth. Consider bit rubbers as a precaution.
Mouthpiece
The preferred contact mouthpiece has been specifically designed for cases where Bombers tongue relief methods have not worked and some form of tongue pressure must be considered. As with all our steel components, the cable core and cheek piece will be covered by our lifetime guarantee. The Bombers Lifetime Guarantee does not extend to materials that can be chewed.
All orders ship from our New York warehouse.
Free ground UPS or first class USPS  will be offered on shipments within the contiguous U.S. with a purchase value over USD $125.00 except for extra large items.  To qualify for free shipping, orders must ship together on the same day to the same address within the continental US. Orders to Alaska, Puerto Rico and Hawaii are not eligible for free shipping
For expedited shipping, contact orders@dapperhorse.com after your order is placed.
Returns
Our policy lasts 30 days. If 30 days have gone by since your purchase, unfortunately we can't offer you a refund or exchange.