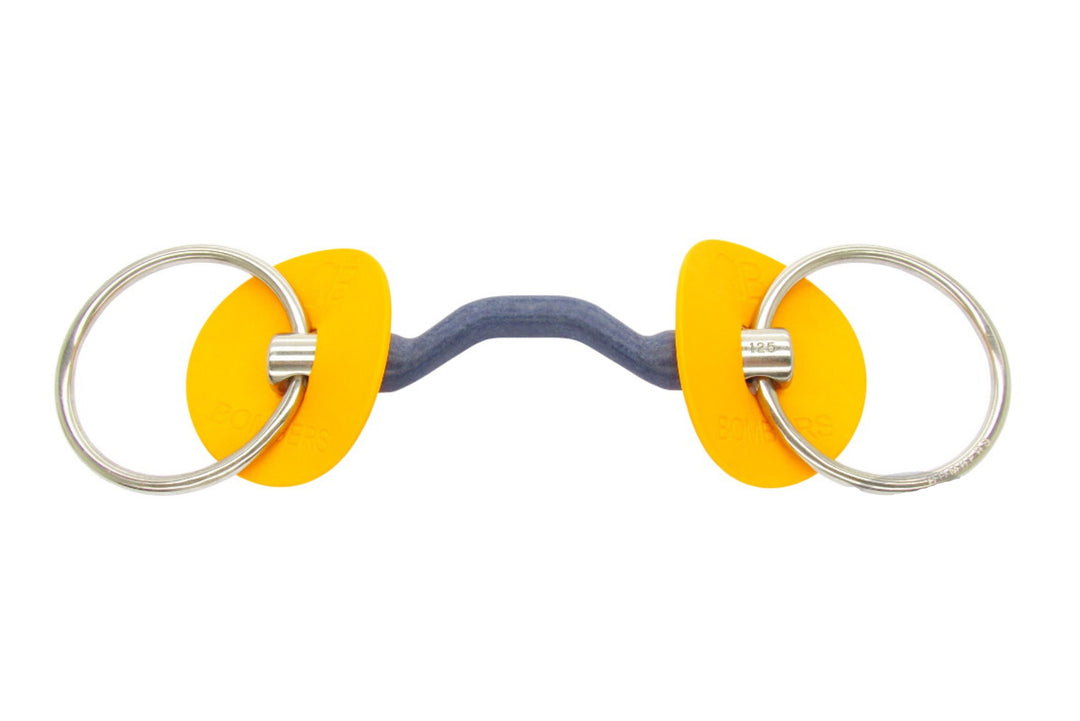 Bombers Bits Loose Ring Bomber Blue
BLR00BB0011508
---
Key Features
The Loose Ring allow for immediate release and relief from tongue and bar pressure. The bit is immediately reset to a neutral position in the horse's mouth.
The Bomber Blue is a unique bit which produces amazing results for the majority of horses. The mouthpiece is ported to give tongue relief. The nylon composite material is light in the mouth and encourages salivation. It is particularly well suited to horses that object to metal mouth pieces.
Cheekpiece
Bomber's preferred cheekpiece. The cheekpiece is available in 3 sizes; large, standard and a slightly smaller model for a pony. Bomber highly recommends using a bit strap on a loose ring, as it stabilizes and minimizes the mouthpiece sliding through the mouth. Consider bit rubbers as a precaution.
Mouthpiece
The first choice for starting any young horse, it is easily accepted, it gives tongue relief, it's light, non-metal and encourages salivation. If in doubt go with the Bombers suggested thickness for your width. The 4 available ports have been scaled according to each width. This ensures accurate fitting over the bars and eliminates the rocking movement which occurs when the port is too wide.
Special Order Sizes:  4.25/110, 4.5/115, 4.75/120, & 5.75/145
Allow 3 weeks delivery for special order sizes.
All orders ship from our New York warehouse.
Free ground UPS or first class USPS  will be offered on shipments within the contiguous U.S. with a purchase value over USD $125.00 except for extra large items.  To qualify for free shipping, orders must ship together on the same day to the same address within the continental US. Orders to Alaska, Puerto Rico and Hawaii are not eligible for free shipping
For expedited shipping, contact orders@dapperhorse.com after your order is placed.
Returns
Our policy lasts 30 days. If 30 days have gone by since your purchase, unfortunately we can't offer you a refund or exchange.