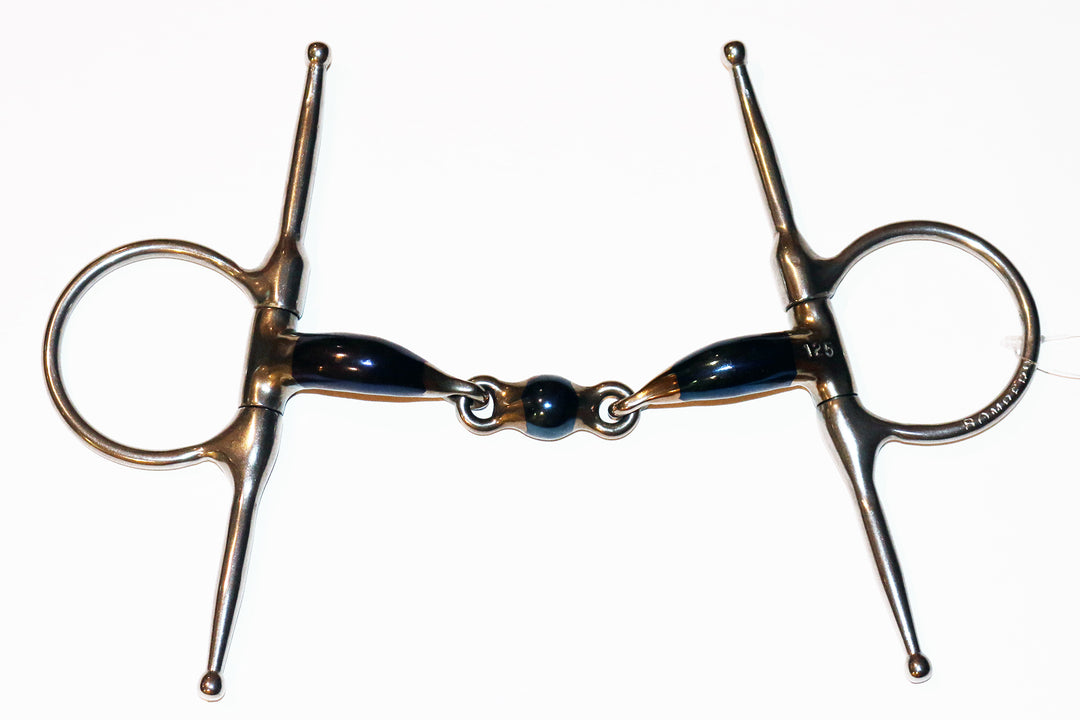 Bombers Bits Full Cheek Elliptical DR Control
BFU00EDCM11014
---
Bombers Bits Full Cheek Elliptical Dressage Control
Key Features
The Full Cheek cheekpiece will prevent pinching on the sides of the mouth, and the extended pins above and below the bit, firstly prevent the bit being pulled through the mouth and secondly aid guiding the horse's head which is great for schooling purposes. As with the Eggbutt, the release is slower than the loose ring and also introduces light poll pressure.
The Elliptical Dressage spreads pressure over the tongue.  The mouth pieces are curved Comfy to soften the bar pressure.  The mouth pieces and lozenge are ground flat to distribute the pressure evenly over tongue and bars, which together with the offset links further reduce pressure points, allowing for a more accepted and relaxed contact, the horse will draw its head back and tuck its chin in, finding a better balance of control.  The lozenge is slightly longer than the standard Elliptical Dressage which reduces bar pressure and distributes the pressure more across the tongue.
Special Order Sizes:  4.25/110, 4.5/115, 4.75/120, & 5.75/145
Allow 3 weeks delivery for special order sizes.
All orders ship from our New York warehouse.
Free ground UPS or first class USPS  will be offered on shipments within the contiguous U.S. with a purchase value over USD $125.00 except for extra large items.  To qualify for free shipping, orders must ship together on the same day to the same address within the continental US. Orders to Alaska, Puerto Rico and Hawaii are not eligible for free shipping
For expedited shipping, contact orders@dapperhorse.com after your order is placed.
Returns
Our policy lasts 30 days. If 30 days have gone by since your purchase, unfortunately we can't offer you a refund or exchange.